By: Ellis Taylor, Head of Partnerships at Real Time
First published at LinkedIn on September 30, 2021
Australia's IT Talent Shortage
The questions on the lips of every Tech employer right now is "how do we solve our talent shortage?", and "how can we afford good digital talent?"
And the far too common answer seems to be "wait for the borders to open for skilled workers to return." 
What this doesn't take into account is the acceleration of cashed-up international companies waiting for the borders to open so they can land and expand in Australia, too. 
Australia has long been a target for international companies because of our technical literacy & new-product up-take rates (we're viewed as a perfect 'test-bed' for products & services), plus the stability of our economy, comparatively weaker dollar, access to capital, proximity to Asia etc. all make Aus. pretty attractive. 
And Covid has only pegged Australia up a few more places in the beauty contest. 
"Despite the border closures, HaymarketHQ is receiving record interest from international tech. companies that are seeking to expand into the Australian market" – Duco van Breemen, CEO of Haymarket HQ (& Sydney Landing Pad).
Which is an amazing thing for the Australian economy, not so much for local employers.
"It's easy to forget that there is a global skill shortage that is not limited to Australia. Governments across the world are also relaxing their migration policies to attract skilled workers, creating increasingly more competition for Australian employers regardless of border closures" van Breemen added.  
When the borders open to tens of thousands of skilled workers throughout 2022 we will only see a net-net effect for the already suffocating local Talent market for years to come – considering: 
The amount of Capital flowing in to Australian scaleups is at record levels: which funds thousands of new hires, (venture capital firms poured $2.5 billion into start-ups between July 2020 and July 2021)
The 'Paypal Mafia' effect, the increase in the number of ex-unicorn / soonicorn tech execs breaking out to start their own ventures (creating more employment opportunities)
Global VCs are aggressively pursuing Australian startups (in the past 6 weeks Canva & Afterpay hit the $55b & $40b+ valuation mark respectively – go figure!)
The accelerating digitalisation of every service due to Covid (not to mention the continual transformation of any already digitised business) is outpacing the creation of digital talent
The Great Resignation (more than 40 per cent of the global workforce are considering leaving their employers – Microsoft) + a lot of the devs we represent are actively being enticed to overseas opportunities in 22'
An expected increase in overseas companies entering the Australian market as they seek new geographies for growth (either organically or through acquisition)
Hiring Solutions
Andrew McFarlane, technology focused M&A Parter at BDO added "higher inbound M&A and investment into Australia is certainly driving increased demand for tech talent along with the sheer volume of digital transformation projects currently occurring across all industries at the moment." 
So the employer's problem isn't going anywhere… and is only going to get worse. 
Salaries will continue to rise
Average tenure of employment will continue to fall
The application rates to (everyones failing) Job Ads will rise, though the percentage of quality applicants will remain low
Companies' investment into their  EVP (Employee Value Proposition) will continue to rise
Investment into Recruitment costs will continue to rise
And this is music to the candidates ears, who will continue their life in the driver's seat.
Cherry picking opportunities and practically writing their own employee contracts in terms of flexibility, hours, salary & ESOP
Their shift towards long-term contracting vs. permanent positions will continue to rise
Candidate's will continue to switch off or ignore their public profiles (some of our candidates get on average 20 LinkedIn messages from employers/recruiters per day – what would you do?)
This is a complicated situation with myriad angles, however there's one thing employers can continue investing in that I think is irrefutable. 
Your EVP.
Employee Value Proposition.
It's what candidates want to know. It's what companies who are hiring well right now are doubling down on. Companies who may not be lifting their salary bands (or as much as companies with weak EVPs are needing to).
Job offers are being rejected at unprecedented levels, and (at a level many employers won't believe) it is not just the case of candidates always chasing the bigger buck. 
Talent Intelligence
In a recent Sonar report on VPs of Engineering (Sydney based), where candidates ranked their highest motivations for joining their next company, EVP outranked Salary & ESOP, which was closely followed by Company Purpose.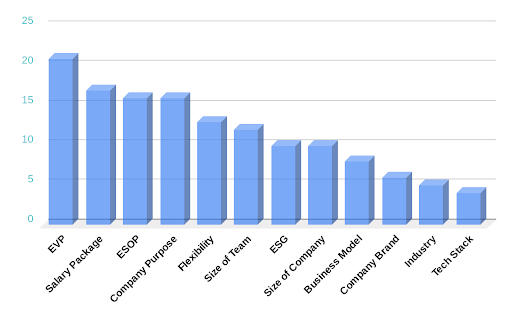 *Sonar is Real Time's unique Talent Intelligence tool which provides our clients with live data on the exact candidate markets they are currently, or planning to hire in. 
There is a lot of work to do to combat the worsening talent shortage in Tech.
And you can't swallow the elephant in one bite. 
We're here to help if you need.