Companies around the world right now are zeroing in on 'organisational performance'.

Org. performance is achieved through an effective organisational design.

Your org. design is your company's engine. It needs regular maintenance, challenges and attention.

Culture is a core part of your org. design.

Your culture defines what is acceptable and unacceptable.

"When properly aligned with personal values, drives and needs, culture can unleash tremendous amounts of energy toward a shared purpose and foster an organisation's

capacity to thrive." HBR – Groysberg et. al.

As soon as your goals, strategy or purpose change, so must your culture. It has to be treated as a strategic tool… reviewed, challenged and upgraded.

It needs to be responsive.

The most simple and effective version I've found, and now rely on, is HBR's 'The Leader's Guide to Corporate Culture,' which refers to both organisational cultures and individual leaders.

Here are the Eight styles with some company examples: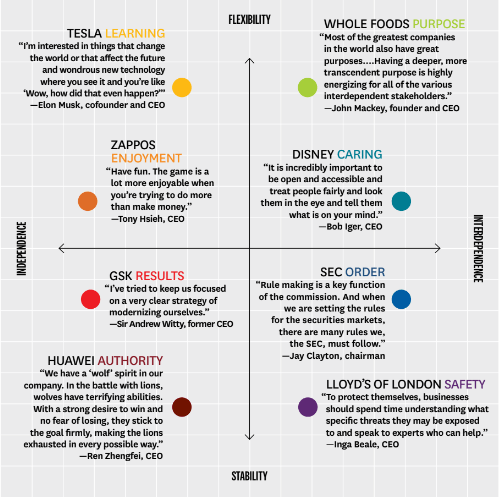 Copyright: The Leader's Guide to Corporate Culture – HBR
In order to achieve our goals at Real Time (with a largely self-managed team) our leadership team selected and ranked our top 4 styles.

These styles support how we want to lead and what we need to manifest in order to achieve our purpose, vision and goals (strategy).

When aligned with strategy, culture drives organisational performance.

When misaligned, culture becomes a liability.

Culture is not a once-a-year, stick some words on the wall, CEO buzzword-athon.

This all sounds obvious, though the disconnection of strategy & culture is far too common and it weighs your company down.

A recent study by Recruiter Insider found that Australian hiring managers' biggest challenge is their ability to convey and pitch their company's culture.

"Firstly, to get them to articulate what their culture is and what the benefits of working for the organisation actually are, and train them on how to actually pitch that." Justin Hillier, CEO – Recruiter Insider.

Many leaders cannot articulate their culture and the better candidates (and employees) are becoming less impressed.

When leaders get this right, their retention, candidate attraction and organisation's performance skyrockets.

A nice way to get the ball rolling is to humanise your company. Here's a few easy questions to get started:

If your company was a person, and performing at its very best, how does it behave?

When sh*t hits the fan, how does this person respond and behave?

Nobody is perfect, what behaviours can this person improve upon?

If you'd like to achieve true organisational performance, we have a lot more questions for you…

Reach out below.

Ellis Taylor is the Director of Real Time and consults software companies on their organisational design, performance and growth strategies.