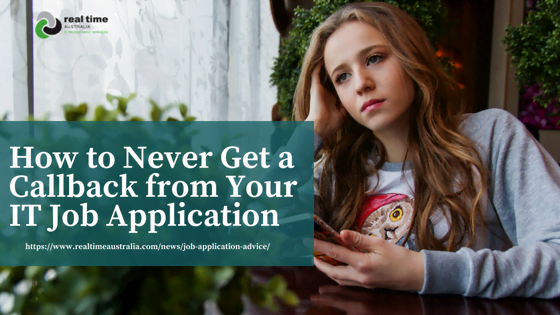 I would like to think of myself as one of the Good Recruiters. To give you context as to why it's because I have been in the game since 2000 just after the.Com Bubble Burst and IT Recruitment was one of the most difficult markets to survive in at that time, particularly for an absolute rookie. It was, however, an exceptionally good time to learn the game and apply those skills learned in more active markets later in my career.
Over the years I have helped hundreds of people change careers, get promoted, increase their salary, relocate overseas, get wives, partners, girlfriends jobs and maintained a very high-level relationship with my clients. These clients who still use me after years and have often taken me with them into their new positions that I might not have secured them.
Why do I feel the need to share this with you? I want to be real in the real world and share some real experiences. (Hence why I work with Real Time Australia). I will get passionate and blue with the tone, as often the Recruitment Industry and Recruiters are criticised by disgruntled people who feel like they have not received the level of service they expect.This criticism can also be applied to your other service companies, eg, your wealth manager, your gym facility and or cleaner
So here are some reasons you will NEVER get a response to your IT job application from anyone including recruiters:
You email every recruiter your resume at the same time and include all the emails for everyone to see. Yes, this still happens too often.
Your introduction is short, non-engaging and sets the wrong tone for the further conversation. Be upbeat and professional. Communicate like you actually want a response.
You highlight your skills and experience and they are clearly not relevant for the position you have applied for. Check out 

Why and How to write an Executive Summary

You are a Serial Applicant who applies for everything all the time even though you are clearly not right for the role. Time to rethink your strategy.
You are overseas – Sorry folks the Australian Govt has made it very hard to process overseas candidates unless the client is willing and able to go through the process.
Your resume is full of grammatical and spelling errors. Using a USA spell checker is not appropriate. Check your resume – Don't be lazy. 

(For Resume Template click here) 

Your resume is formatted in a PDF or has loads of TextBoxes and Formatting in it. This is every companies and interviewers nightmare. Sometime's you might get asked for a Word Version. Check out 

Why Recruiters Reformat Resumes

 and 

The Winning Resume Formula

.
You have applied for a role that generates 100's of applicants for one position. Yes, this really does happen. Hopefully, you get some kind of automated email acknowledging your application but it is unrealistic to expect one person to respond individually to every applicant giving a reason as to why they are not successful. Hint: Be proactive and stand out from the crowd.
Your resume and your digital profile do not match. Really? – you don't think people check this. I have actually been hauled over the coals by a client because a resume did not match a LinkedIn profile. Humble pie and never again. For more tips check out 

How your digital footprint could help or hinder your IT job application success.
The market is small and people talk. Be honest be thoughtful and think about what you really want to do next and how you communicate this to your audience.
You have applied to the company on previous occasions, for completely different roles.
Remember, they have their own internal database and will be alerted to your prior application.
The above list is not exhaustive. However, I do hope that this gives you a wake-up call in terms of what not to do if you expect a return call from your IT job application.