Work Motivation
No surprises here really, are there?
So we asked, Why? What motivates SW Engineers to do what they do?
In my recent article, I shared an infographic regarding the key motivations for SW Engineers right now – the clear leaders were: 
Technical Challenges (24%) 
Product Achievement (11.5%)  
Learning New Tech / Languages (8 %) 
Read any job description from the Big Tech names or up and coming Startups / Scaleups. This is exactly what they are providing their engineers right now!
Banks offer big salaries, Government offers (the myth that is) Job Security & Consultancies offer access to big named, deep pocketed clients. 
Statistically, SW Engineers don't care that much…
The other outlier that shon from our 500+ human conversations with active & passive FE SW Engineers is that they want to Build Products (72%)!
Of course, in the subject of 'Where Front End Software Product Engineers want to work,' location arose. We asked, what do you prefer for your next role. They said: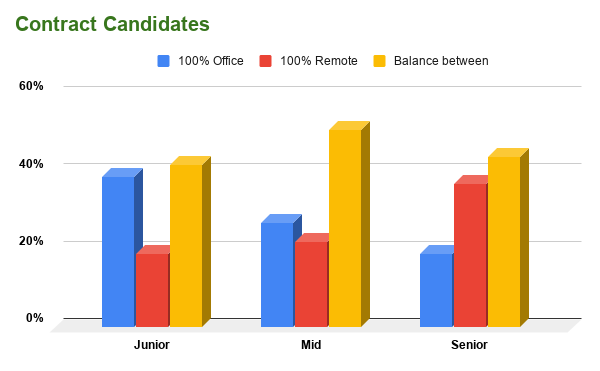 Note: we usually don't like to simplify engineers or developers in to "Junior – Mid – Senior" categories, though for this report purposes
So, how do you compete in attracting the right, and best possible SW Engineer to your company?
Stay tuned!
Thanks for reading!